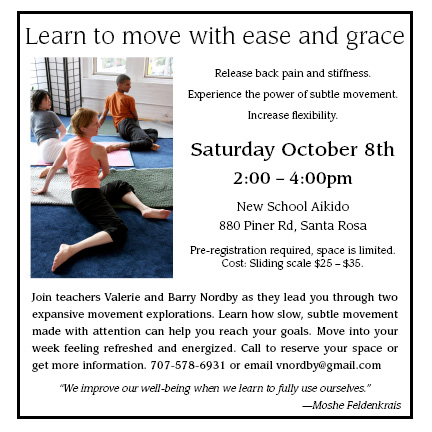 Join teachers Valerie and Barry Nordby as they lead you through two expansive movement explorations. Learn how slow, subtle movement made with attention can help you reach your goals. Move into your week feeling refreshed and energized. Call to reserve your space or get more information. 707-578-6931 or email barry@somaticnirvana.com
The lessons we're teaching will help you find and release tension in your chest, make bending and reaching easier, and explore moving from lying to sitting more gracefully. It'd be great to see you there. Please pass this along if you know someone else who might be interested.
Pre-registration required, space is limited.
Date: October 8, 2011. 2-4 pm
Location: New School Aikido, Santa Rosa
Cost: Sliding scale $25 – $35.